Bitcoin Price Prediction as BTC Approaches $30,000 Resistance – What Happens Next?
On Wednesday, the price of Bitcoin continued to rise, increasing by over 2% and reaching approximately $29,500. 
While it initially surged to $30,000, it settled above $29,500 due to lower trade numbers in China and a decrease in the US 10-year Treasury yield.
The worldwide cryptocurrency market has been showing positive results, currently valued at approximately $1.23 trillion. 
Despite fluctuations, Bitcoin is displaying promising signs, potentially due to institutional investors expressing interest in other forms of digital currency. 
If Bitcoin surpasses the $29,750 threshold, it may continue to rise, but if not, it could decrease to roughly $28,800 or less.
The recent increase in Bitcoin's value may be due to news about a possible approval for a Bitcoin ETF. 
Insiders at BlackRock and Invesco have reported that an approval could happen within four to six months, which has raised hopes and led to speculation. 
As a result, Bitcoin's value has increased by 2%, and other cryptocurrencies have followed suit.
Moreover, the surge in Bitcoin's value can be attributed to the influential investors who have taken long positions. 
Along with this, the Open Interest has reached a record high of $10.086 billion, and there has been a significant growth in Coinbase's premium, indicating a growing demand for Bitcoin in the US. 
This aligns with the expectations of ETF approval.
Binance's Expansion into El Salvador and Its Potential Impact on Bitcoin's Price Surge
Binance, a cryptocurrency exchange platform, has obtained two licenses in El Salvador amidst regulatory issues in the US and Europe. 
The Central Reserve Bank has granted Binance a license to provide Bitcoin services, and the National Commission of Digital Assets has awarded the platform a license to offer non-provisional digital assets services. 
With these licenses, Binance has become the first fully licensed crypto exchange in El Salvador.
Binance is making efforts to obtain licenses worldwide, despite facing regulatory obstacles in some regions. 
The company has recently expanded into Japan and Dubai. In comparison, the United States continues to experience regulatory tensions. 
However, El Salvador's positive attitude towards cryptocurrency is a stark contrast. 
The country's decision to recognize Bitcoin as a legal tender and its proactive regulatory measures suggest that it could become a hub for crypto-friendly activity.
This news is likely to have a positive impact on the BTC price rally as it indicates the increasing acceptance and regulation progress in the cryptocurrency industry. 
It will also enhance investor confidence in the broader crypto market, including Bitcoin, by demonstrating its continued adoption and legitimacy.
Bitcoin Faces Caution Amidst Warnings and Outflows
On the flip side, the crypto expert Nicholas Merten warns that Bitcoin's price drop below $30,000 suggests further decline. 
He sees more people wanting to sell than buy, causing selling pressure and stagnant prices. 
If Bitcoin closes the week below $30,000, it could signal an upcoming drop.
Thus, this warning of potential further decline below $30,000 could contribute to a cautious sentiment in the BTC price rally. 
His analysis highlights selling pressure and the need for Bitcoin to stay above this critical level. 
This could prompt some investors to reassess their positions, potentially impacting the ongoing price rally. 
Bitcoin Price Prediction 
Bitcoin is currently priced at approximately $30,000 and is showing signs of a slightly bullish trend. 
However, it is struggling to surpass the $30,200 threshold, which is evident in the four-hour timeframe. 
The resistance is being intensified by technical patterns that indicate a growing bearish attitude. 
Notable indicators, such as the RSI and MACD, are getting close to the overbought zone, which could mean that the current bullish momentum may weaken.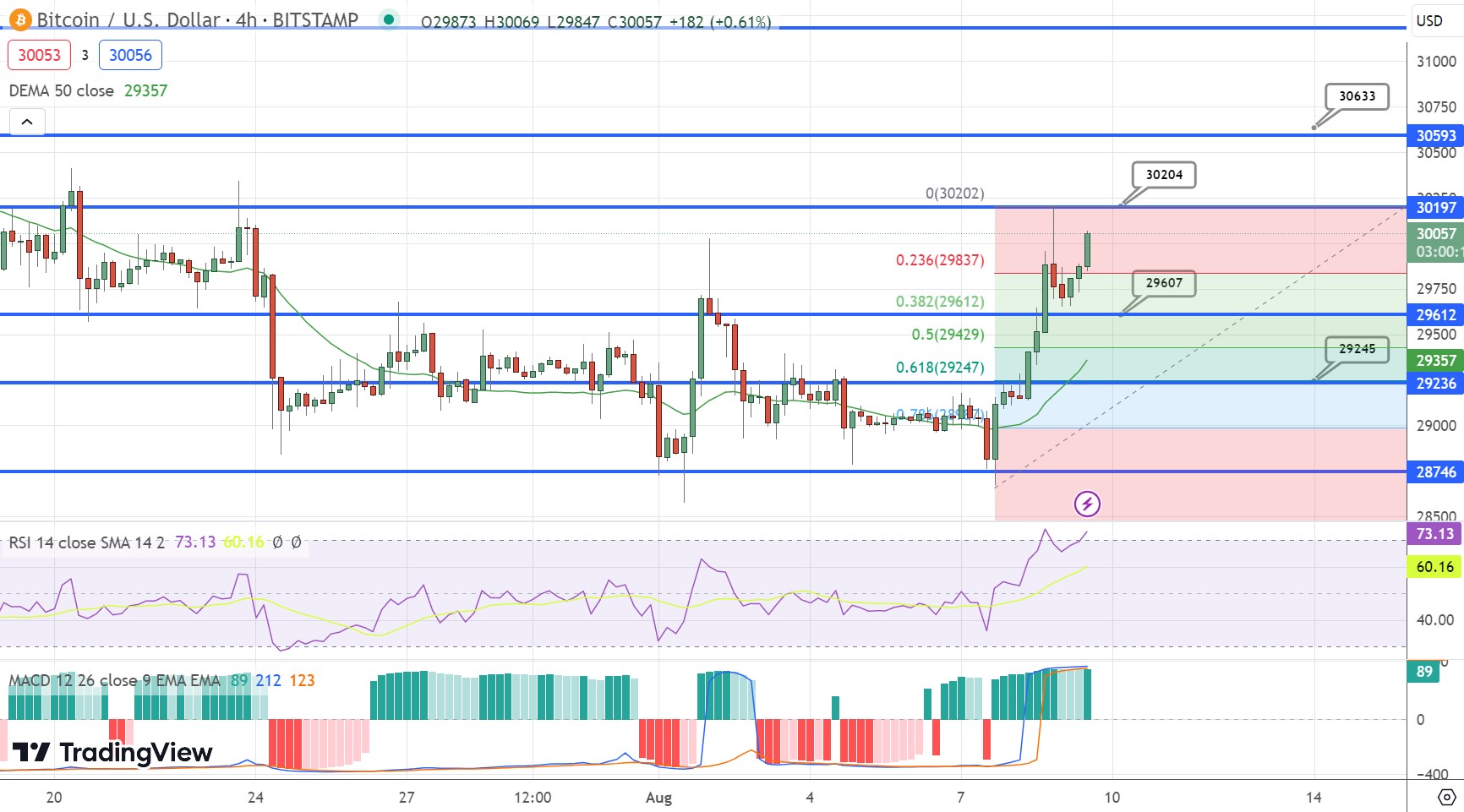 Bitcoin has recently hit the 23.6% Fibonacci retracement level at $29,800 and could potentially aim for the 38.2% marker at $29,600. 
In the event that it falls below these levels, BTC may decrease further towards $29,250. 
However, if it manages to surpass the resistance at $30,200, it could potentially move toward the range of $30,600 to $31,000. 
It's worth noting that the zones at $29,800 and $30,200 are crucial, as any potential drops below these levels may signify a bearish trend for BTC.
Top 15 Cryptocurrencies to Watch in 2023
Stay informed about the latest initial coin offering (ICO) projects and alternative cryptocurrencies by regularly exploring our carefully selected collection of the top 15 digital assets to watch in 2023.
This thoughtfully curated list has been compiled by industry experts from Industry Talk and Cryptonews, ensuring that you receive professional recommendations and valuable insights.
Stay ahead of the game and discover the potential of these cryptocurrencies as you navigate the ever-changing world of digital assets.
Find The Best Price to Buy/Sell Cryptocurrency

Disclaimer: Cryptocurrency projects endorsed in this article are not the financial advice of the publishing author or publication – cryptocurrencies are highly volatile investments with considerable risk, always do your own research.